Whether its a full home refurbishment in London, painting or decorating, kitchen refurbishment or bathroom installation, with Geca Construction LTD
you wont need to deal with architects, numerous contractors or planning departments, we will do it for you
throughout entire project, making your home refurbishment or any property refurbishment stress free and relaxing.
We are experts in full home refurbishment in London and are a one-stop-shop providing you with all the services you need making it all as simple as possible and cutting full property refurbishment cost to minimum.
In GECA Construction LTD we have only professional Polish builders that do a great job with house refurbishments in London.
Property refurbishment London
Finding the right property refurbishment company here in London these days can be difficult as there are so many building companies on the market that it is not easy to make a choice. Increased competition, high prices and lack of experience especially with young building companies is a standard. So when it comes to property refurbishment with GECA Construction Ltd your project is in the right hands and you do not have to worry about anything as our experience in small and large projects is extensive and we are proud of each completed job. We cover all residential refurbishments and renovation services as well as commercial in London and we are not afraid to say we deliver it in every aspect and every detail to make sure you are getting the most of what you pay for.
Property refurbishment, especially in London is the most expensive and demanding of all but we are a team of professionals with the skills and knowledge to manage even the most demanding project for the best possible price. High quality finish, unique style and design is what we aim for and this is one of the things that our customers like the most. With property refurbishment, renovation and maintenance usually there is no need for structural changes but GECA Construction Ltd can manage it all, we are one stop solution for property refurbishment in London, also fully insured for your peace of mind and all our works are guaranteed.
Our refurbishment service includes: painting, decorating, plumbing, electrics, kitchen and bathroom installations and many more, if it is not included here, please feel free to ask.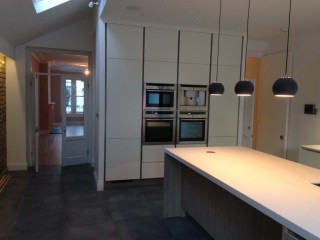 As we know London is one of the biggest and beautiful cities in the world. We can see there are so many great and antique building here. Such as, Tower of London and the London Bridge, Tudor Palace, and so many more.
Besides those antique buildings, many houses and other properties such as apartments and offices look good and so beautiful. They are different from the old buildings. Many houses, apartments, and offices in London are built in contemporary architecture.
Same as others capital cities in the world, London has a high population of people which need someplace to stay and work. That is why there are so many homes, offices and other properties that need to be refurbished from time to time here in London.